Coming into the 14th Annual Ladies-Visakha Water polo encounter with intentions of retaining the title a seventh year running, the Visakhians were given a rude shock in the second half by Ladies College when they levelled the scores in the last quarter.
The first two quarters of the match went in favour of team blue who took an early lead through two long-range shots from Shaleena Peiris followed by the efforts of Janisha Katuwapitiya which saw Visakha taking the scores up by 4 at the end of the 1st quarter.
The title defenders, saw their experienced campaigners doing the scoring as last year's skipper Nadishka Senanayake joined the scoring club soon after the 2nd quarter.
The first goal for the Ladies came in the 2nd minute of the second quarter as Kanchana Swaminathan scored off a set move.
Nadishka went on to get her hat-trick scoring two more in the second quarter to raise Visakha's stakes to 7 goals that were followed up by a long strike from Peiris. As Visakha piled on eight goals, a strike each from Kanchana Swaminathan and Rheanna David saw the Flower road camp scripting what would have been a famous comeback.
Seconds to go for half time, Shenara David's long-range shot from the half line saw fortunes very much favouring the reds going into lemons 8-4.
It took the LC'ites three quarters to get the breakthrough they were looking for as Shenara David opened the scoring in the very first minute (8-5). The replacement for Visakha, Savini Gunawardhana soon scored off an assist from Peiris to maintain the lead (9-5).
Soon after, Shaleena Peiris missed an easy penalty that was awarded and that was the turning point for the Ladies climb.
A hat-trick of goals by the Ladies skipper Nimashi de Silva coming at the exact time when it was needed was followed by an important goal from deputy skipper Dunyasha Hewagama which saw the reds back on level with a chance to break the 7-year-hoodoo.
With less than 30-seconds to go, it was Shaleena Peiris who brought home victory scoring the winning goal for Visakha to retain the silverware for a seventh successive occasion.
The Ladies team came close performing the unimaginable but unfortunately, the Visakhians held their ground to take it home.
Skipper Kavee Perera's team will continue the legacy left by Shivani Gunawardena in 2010 completing the seven-peat.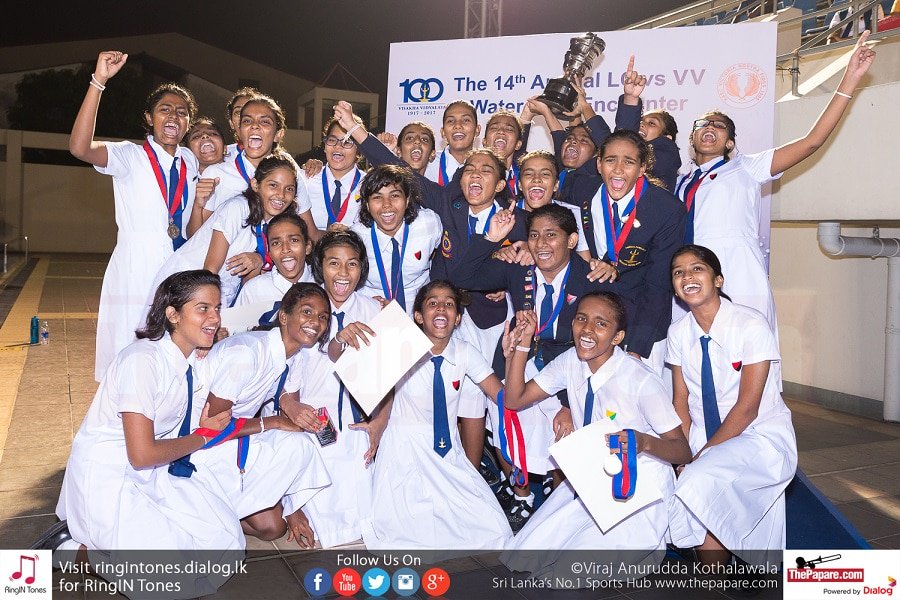 Extracted from: http://www.thepapare.com/14th-ladies-college-vs-visakha-vidyalaya-water-polo-encounter-2017-report/